Sydney's number one print decorating specialist
JK Multicolor is the leading product decorating specialist in Australia. Proudly Australian owned, we are located in Sydney and have built our knowledge and expertise to deliver high quality items and positive experiences for all our customers.
We understand the value of branding and the importance behind telling a story. This is why our dedicated team work closely with all of our customers every step of the way to ensure all needs are met and that the brand is represented the way it is envisioned.
Need something personalised quickly, no problem. We can turn things around fast and our team love to meet new people so feel free to visit our office in Caringbah, NSW.
No matter how big or small your job is, we can help you.
About Ross Birdsall
Ross is an expert leather craftsman with over 35 years' experience working with leather products. Taking over the business in 2017 from previous owner John Knowles who established the business in 1996 and managed it very successfully until his retirement in 2017, JK Multicolor has seen natural growth and is developing new ways to achieve more success under Ross's leadership. Ross's prior experience with Birdsall Leather & Crafts has enabled him to also develop new techniques in stamping, monogramming and embossing resulting in quicker turnaround times and higher quality products.
As Managing Director you will find that Ross has a hands on approach, especially when it comes to meeting new clients, decorating products and delivering. He is confident at showing his skills especially at client events using the latest and greatest machines.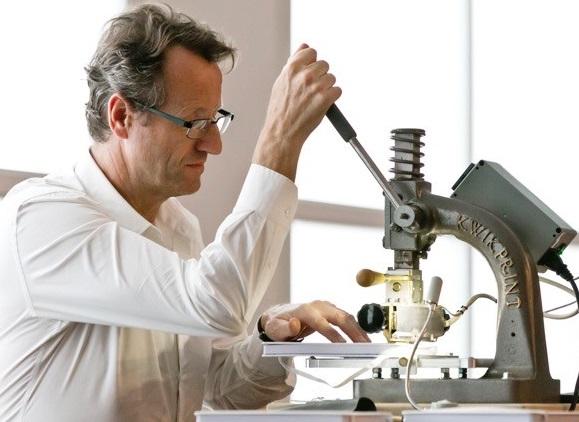 Our Mission
Deliver exceptional customer service
Produce and deliver in the shortest timeframe possible
Add value to our client's business by providing the highest quality craftmanship
Display a superior level of professionalism
What our clients have to say
JKM… we love them! Career Trackers has been working with JK for nearly 10 years. We love this passion for innovation and true pursuit of excellence in everything they produce!

Ross and team are fantastic. From the moment I made contact, they made the process stress free and timely. I have now utilised their expertise for multiple events and am excited to continue the relationship.

I have been working with the crew at JK Multicolor for just on 20 years and in that period there has been numerous times that they have "pulled off the impossible" whilst still maintaining their exceptional level of attention to detail and quality. The willingness to assist and help create the solution required to fit the need is something that is greatly appreciated and respected with JKM, and it is without any hesitation that I would recommend them to any reseller or customer who needs printing on a variety of products and surfaces. Nice work Ross, Miki, Alex and all the crew at JKM. Keep up the great work.

Boost Promo Products Pty Ltd and JK Multicolour has enjoyed a fantastic working relationship for more than 10 years. During this time we have received great service, high quality decoration and most importantly on time delivery every single time. Their extensive knowledge in what they do is very impressive. We would personally recommend JK Multicolour to any business or company looking for some of the best print services in the industry.

We've been JK's customers since their inception in 1996 and our relationship grew stronger year after year. Throughout the years, JK kept expanding their offerings to keep up with the latest trends and technologies. They truly know what it takes to build long lasting business relationships. We look forward to working with JK's professional team for many years to come!

We have been working with Ross & the team at JK Multicolor for over 2 years now and we are very happy. We regularly have leather items monogrammed and there is nobody else with the experience that Ross has working with leather. We wouldn't let anyone else attempt it on our expensive leather items for our customers.